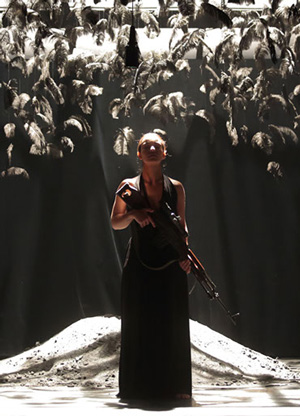 Théâtre Tristan Bernard, Paris
Stories in Theatre Productions Ltd acted as advisers and consultants to French producers Ki M'aime Me Suive for the award-winning play 'Angel' by Henry Naylor.
Following the successful run at Edinburgh Festival Fringe 2016 (at the Gilded Balloon), the show is produced by Ki M'aime Me Suive at Avignon Off 2017 for its French language premiere after previews in Brussels.
After the success at Avignon Off 2017 (Théâtre du Chêne Noir), Mon Ange had its Parisian premiere at Théâtre Tristan Bernard.




About the show
Based on the mysterious and true story of the Angel of Kobane; the female sniper who shot 100 Jihadis.
Cast and creatives
Author: Henry Naylor
Translator and Adaptator: Adelaïde Pralon
Director: Jérémie Lippmann
Cast: Lina El Arabi
Set Designer: Jacques Gabel
Lighting Designer: Joël Hourbeigt
Costume designer: Colombe Lauriot-Prévost
Producer: Pascal Guillaume for Ki M'aime Me Suive (Paris)
Co-Producer: Théâtre Le Public (Brussels)
Consultant: Olivier Pierre-Noël for Stories in Theatre Productions Ltd
Performance info
Reviews
The Times – 9 Aug 2016
Edinburgh Festivals Magazine – 4 Aug 2016
Three Weeks – 17 Aug 2016
The Scotsman – 12 Aug 2016
The List – 15 Aug 2016
Awards

Winner:
Globe de Cristal for Best Actress to Lina El Arabi, Paris 2018

Winner:
Scotsman Fringe First 2016, Edinburgh 2016

Winner:
Holden Street Theatres Award, Edinburgh 2016

Winner:
Best Theatre, Adelaide Fringe 2017

Winner:
Overall Adelaide Critic's Circle Award, Adelaide Fringe 2017
Website & social media
Enquiries